Finding the middle ground in nutrition is near impossible. I opened the recommended articles search on my phone to a bombardment of write-ups ranging from how a vegan diet will make you live longer to why adopting a meat and dairy heavy keto diet will help you lose weight and gain vitality. There is research pinning sugar as the culprit for all disease, that all fat causes health decline, grains cause bloating and leaky gut, high carbohydrate diets are what our bodies were created to consume, and that a diet high in protein and fat is what our earliest ancestors ate and is therefore the most optimal way to eat. Is chocolate bad for you or is it a superfood? Are eggs the best source of complete protein or are they single handedly the worst cause of high cholesterol and heart disease? All of this information is enough to make anyone's head spin out of control and cause a "heck with it" attitude towards food. We live in a world of conflicting information and extremes, and nutrition is not an exception.
There are several factors that lead to conflicting nutritional information including how studies are created and funded, money in advertising, and lobbying. While these more political topics are important to note, I am not going to address them in more detail here. The second factor is you – you as an individual, who has different needs, taste buds, allergies, cravings, likes, metabolism, body type and composition, and DNA than anyone else. We also vary from one another based on factors like our upbringing, ethnicity, geographical location, gender, energy output, goals, and age. And finally we ourselves changing overtime, so what you need nutritionally is going to change based on your stage in life, activity level, stress levels, and so on. So why wouldn't your diet also reflect these differences as well? Bio-Individuality goes along this line and implies that since every body is different, there is not one diet that fits everyone. This also means that there are very few blanket statements in nutrition that can be applied to MOST people.
Intuitive eating has become a buzz-word topic over the past few years and connects to this concept of bio-individuality. It is not a diet plan and does not rely on willpower or deprivation, but intuitive eating is choosing what to eat in the moment and what makes sense for your body. It can help establish a trust with your body and its cues and foster a healthy relationship with food. Our bodies are amazing and were made to tell us what it needs to function at its best. This is the overarching philosophy of eating that has helped me combat food rules, and approach food and my body in a wholesome way. At first, it might feel like a lot of work in terms of taking the time, energy, and mental space to tune into your body, fight the diet culture reminders that might pop up, and give your body what it needs and wants. This process might seem slow, and even frustrating at times, but ultimately leads to balanced, middle-ground approach to eating. This is a topic that we will definitely explore later.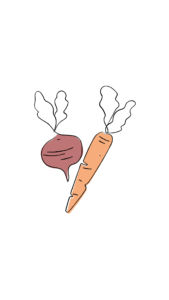 Finding middle ground in nutritional information is an important unifying factor that can give us all a baseline to then explore our own personal food sketch.
In general, whole foods are the way to go. Whole foods are often described as one ingredient foods, tomatoes, almonds, oats, strawberries, spinach, black beans, rice, and olives – the list goes on. Some of these foods have to undergo some sort of process to become edible, like wheat, oats, beans, and lentils, and others are processed to make a different form of the food, like olive oil or dried herbs. Some "processed" foods can even be good for you, think fermentation like in sauerkraut, or sprouting grains, which makes them easier to digest and take on a slightly different nutritional profiles. There are also growing sections in the grocery store with brands that make packaged foods made with the exact ingredients that you could pick up in a store and make for yourself.
Then, there are foods that are not the best choice for a nutritionally optimal diet, and are best consumed on a less often basis. These are the processed foods that you think of when you imagine packaged food, fast food, and sometimes restaurant food. They are foods that have a laundry list of ingredients that are unidentifiable and are often laden with sugars, dyes, artificial flavors, chemicals, additives, food stabilizers, excessive amounts of salt etc.
While these are often super delicious, they also don't always add a whole lot of nutritional benefit. I think it's important to not label foods as "good" or "bad", but rather to see them as percentages of your diet. It's totally great to have that cake or ice cream as a treat that feeds your soul, and truly enjoy those foods that you love in a restaurant on occasion. Deprivation and setting up foods as "off limits" often feed a binge/guilt/diet cycle – more on this in a later post. But it's also good to keep balance in mind.
EAT PLANTS.
Plant based foods are some of the most nutrient dense foods, and are what supply our bodies with so many important micronutrients that just aren't found anywhere else. This definitely does not mean that you have to eat plant based, but it is important to include a wide variety of vegetables, fruit, nuts, grains, seeds, and legumes in your diet. If you do choose to eat plant based, it is important to note that there are certain micronutrients that are harder to get, like iron, B-12, and Omega 3s, that require diligence to ensure that you are getting adequate amounts in your system.
Most of all, eat a balanced, well-rounded diet. I am totally guilty of eating the same things over and over again. Part of it is convenience and the fact that my grocery list can take up less headspace, but different foods have different nutrient profiles with essential vitamins and nutrients for our bodies. Eating seasonally and trying new recipes and new foods really helps me with this.
Just because something is good for you doesn't mean that more is better.
There are some pretty crazy ways of eating out there that promote only eating one or two foods or types of foods for a period of time, including juice "cleanses", as the optimal way to eat. Not only does this do away with the whole balance thing, it can also promote definicencies, disruption to your gut, and food rules that lead to diet cycling, it can actually be quite dangerous for your body.
Water and hydration really are important.
This is one of those reminders that might make you think "ugh" and reach for your water bottle as you are reading this, but hydration from water, not coffee or tea, is important for bodily functions like digestion, waste removal, protecting your joints and tissues. Our hydration levels impact so many of our functional systems in our bodies, so take a sip of that water, and add some lemon, lime, cucumber, or other fruit to make it even more tasty if you like.
Lastly, nutrition is not just about what you eat.
You fuel your body with relationships, home life, education, physical activity, work, spirituality and everything else that you surround yourself with. You could have the most "on point" diet and yet still feel unsatisfied. This concept of balance is so important as it relates to food and lifestyle. It's something that will be constantly fluctuating and will involve continual feedback from your body, but I believe that over all, it is what leads to a well-rounded and intuitive approach to life.
I hope this post provided some interesting topics to think about as you start to assess where you are in your relationship to food and how you eat. While sifting through all of this conflicting information on food and nutrition, I hope that you can start to see that there are some core intentions that we can all agree on. There is some middle ground in nutrition. Ultimately, it is most important to take an intuitive look at your body in exploring your bio-individuality. This is the start a nutrition series where we will take a deeper look at topics such as the difference between dieting and healthy eating, how to fuel your body as a dancer or pre-professional student, and what role each macronutrient plays in your body, and so much more. I am so excited to dive deeper into these topics with you!
make sure to check out my youtube channel here!